Sophia Johnson has remained remarkably busy through a period most musicians have characterized as stagnant. Johnson said the pandemic's disruption to her "gig treadmill" opened a path for her to pursue, among other things, an ambitious twin guitar showpiece that pairs her lead guitar chops with Rose Sinclair's steel guitar wizardry.
The project yielded "Harmony Grits," a record Johnson and Sinclair will release May 21 under the banner of their twin-guitar group Ida Red.
Johnson took a break from supporting her lively roster of online guitar students this week to chat with Dim Lights, Thick Smoke about cool guitars, the challenge of moving her work online, and echoing Speedy West and Jimmy Bryant.
---
Dim Lights, Thick Smoke: Let's start with something nerdy. You play one of the coolest-looking Jazzmaster guitars, and I don't see a lot of those around town. What is the story with that guitar?
Sophia Johnson: I had been playing a 1958 hollow-body Gibson ES-125 a lot, and wanting a solid-body guitar. But I've really struggled with Fender Stratocasters and Telecasters to get the right tone.
I'm not totally sure what made me think the Jazzmaster would be a good thing to investigate. But I sent this thing to my guitar friends asking what they thought about Jazzmasters, and several people said, "Oh, you should go and check out the Squire J Mascis signature model Jazzmaster." It's a relatively cheap guitar. It's actually the first guitar I've ever bought at Guitar Center. I went to try it and really, really liked it immediately, and got the tones I wanted in the shop, with their amps.
J Mascis is actually an indie-rock guitar player from the band Dinosaur Junior. I'm not a huge fan, but I'm aware of them. It has the closest tone to a vintage Gibson that I've found. It has Fender's equivalent of P-90 pickups, a big fat neck, and that pretty gold iodized scratch plate. It's very affordable. So I really wanted to get one.
After I got the guitar, I saw Australian Rockabilly Pat Capocci on the cover of a guitar magazine with one, saying what a great guitar it is and that he is using it for everything, and I am too!
It's weirdly my least expensive guitar. But I've been having so much fun playing with it. I feel like it really gets the tones I want. It's been the first solid-body guitar I've bonded with. The shape of it can fit my body better than a Tele does.
The Gibson ES-125 doesn't have a cutaway, and there were some licks I was learning for a whole-tone scale thing for a tune I was working on a month ago. And I just couldn't get high enough on the neck without a cutaway. So the Jazzmaster really works for me. I love it.
Of course, now I want an old, vintage Fender. But this Squire is doing a stellar job for me right now. Especially with a pandemic budget. I can't recommend it highly enough.
DLTS: Anybody who follows you knows you cover a lot of ground musically and in performance. You sing, band lead, and play killer guitar. Sticking with your gear for one moment, how much ground do you need to cover with your instruments? Do your multiple projects call for totally different gear?
SJ: I have three guitars I play on a regular basis. I play a Martin D28 CW flat top acoustic guitar at bluegrass gigs for flat picking. I use the Gibson ES-125 with my band Tiger Alley because we do more combined bluegrass and swing. And I play the Jazzmaster with Blake Whitmire, who's a newer Western swing artist in town, and with Rose Sinclair in Ida Red.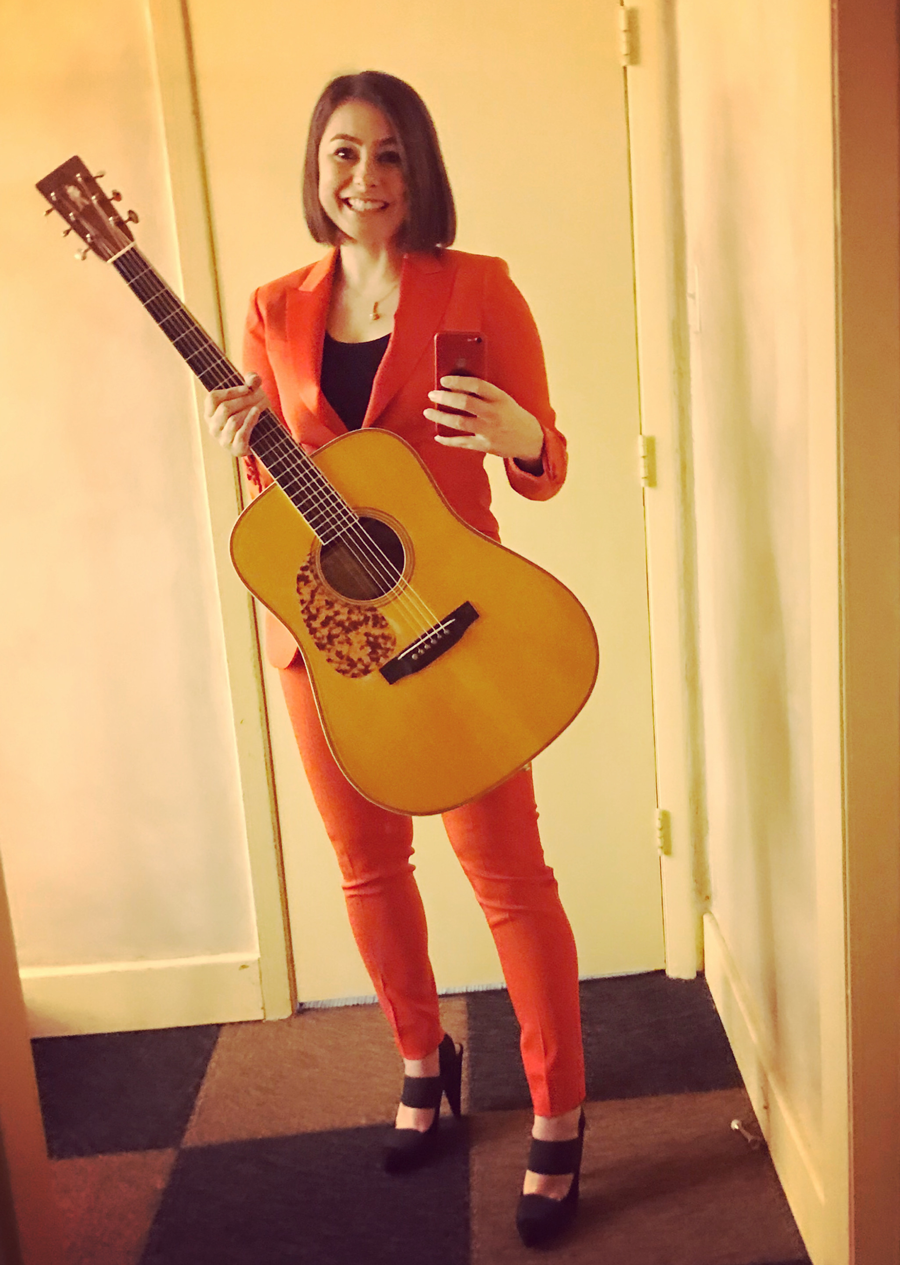 DLTS: Is there something else on your wish list? Are you pining for anything? Or are you good for awhile?
SJ: You know, I'm a guitar player. So there's always a wish list. No budget, I'd love another Gibson archtop. I'd love to get my hands on a vintage Fender Jazzmaster.
I'm very happy with my setup right now. I have a Fender Princeton and Fender Deluxe Reverb amp. Depending on the size of the venue, I use either one of those two.
I'm pretty set for right now – as much as any musician can be. We always have a wish list. You never have enough gear.
DLTS: You've been very productive with your "pandemic budget." What have you done during the pandemic to hang on?
SJ: I switched from teaching in-person guitar lessons to quite a lot of online lessons. I teach kids and adults. That's been great to have been able to keep that going.
It presents a lot of challenges. Especially for kids, who are looking at screens all day, only to do an extra half hour or 45 minutes with me. I've found ways to work around it. Some kids have taken to it really well, and for others it's definitely more challenging.
I make a lot of videos now that I can send to my students so they can practice along with me. That's the main thing you can't do in an online lesson: You can't play with them and make sure they're playing in time. But I make a little video of me playing to a backing track, or whatever. And then they can play along with me.
So online lessons has really helped.
Over the last few months, I've played a lot more outdoor venues. Any place that has a good outdoor space fairs a bit better than the indoor venues, especially in the surrounding areas, like Dripping Springs and Driftwood. I've been playing at breweries and places that have some outdoor space.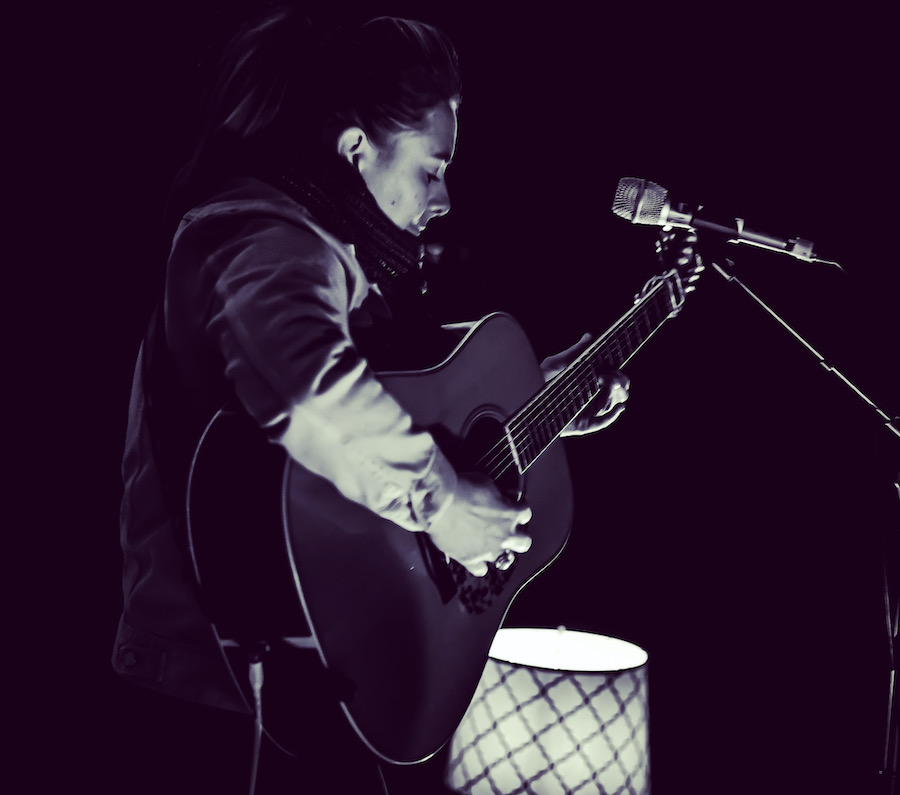 My schedule for April and May is looking a lot more like it did in previous years. So I'm hopeful. Every week we play out, I'm seeing dancers that I haven't seen in a long time. There were no dancers for a long time, and what I play is very dance oriented. It's great to see them.
A lot of them tell me, "I've had both doses of my vaccination and I'm ready to be out dancing, again." I'm looking forward and positively that we are coming out of this now.
I'm thousands of miles from my family and support network. So I have had to try and find a way to stay connected.
I've done a bit of livestreaming online, as well. I don't like it. I love being in a room, even if it's playing to three drunks. It's easier to me than playing into the computer. It's a weird thing.
I'm still trying to do a monthly livestream of my original material. And it has been good to connect with people living in the United Kingdom and the supporters I have over there. They've appreciated that. So I'm probably going to keep that going. But once a month is about all I can handle of the livestreaming.
DLTS: You recently teased that you and Rose Sinclair, in Ida Red, had a record coming. Is that a product of being locked down this year?
SJ: Absolutely. For the months where there was nothing, when there was a hard lockdown, I'd use my big outdoor deck here and Rose would come over, and we just woodshedded on twin guitar parts and Western swing stuff. That breather from the gig treadmill I was on really did allow Rose and me to hunker down and get to work on some twin guitar stuff that we really couldn't do on the fly.
That's definitely another good thing that came out of the pandemic. Rose and I have both said that it kept us going through that very weird time when we were in full lockdown.
DLTS: You and Rose have each made solo records before. So what was the vision for this one, with the two of you together? Is there something you do together that you don't do solo?
SJ: We both love the great twin guitar teams, like Speedy West and Jimmy Bryant, Jimmie Rivers and Vance Terry, or Leon Rhodes and Buddy Charleton. There's this great tradition in Western swing of playing music in harmony together, taking these cool ripping-but-worked-out parts.
I've always been curious how they rehearsed versus working it out on stage, in front of people. So this record was quite different for both of us. It's the first duo thing I've ever done.
Each track on the album has specific arranged parts and lines that Rose and I play in harmony. We both really enjoyed doing it, and I've always wanted a partner to do that with. But finding someone who's equally into the same type of thing and has the time to rehearse it all and get it all together has always been a problem in the past.
The pandemic afforded us a little time to work on all of that. We both just really loved it. And after we had been doing it for several months, we both said, "We have to make a record out of this." Once the idea germinated, we worked on it. Emily Gimble plays on it, and Lauryn Gould played sax on a couple of tracks. We're really pleased and proud of the work we did on the record.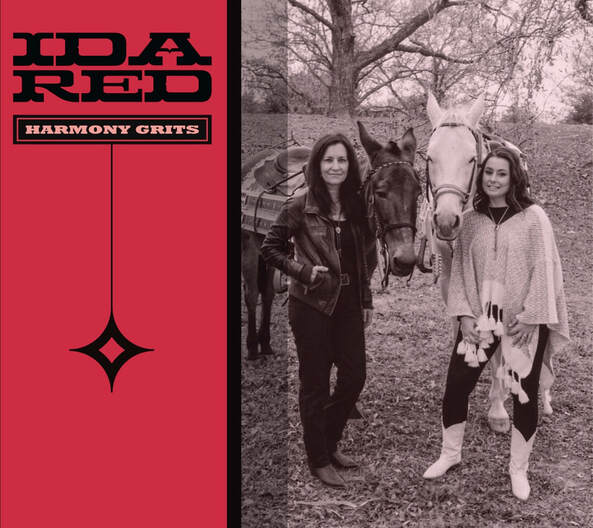 DLTS: That's a very ambitious project. It's not something you can just jam you're way through.
SJ: We also realized that no women have ever done this: A female twin guitar team. That's a sweeping statement, and it's as far as we know. But I've never seen one. Female steel players are rare and female lead guitar players are rare, especially within the Western swing genre.
But we have this track called "Harmony Grits" – a play on "Hominy Grits." It was recorded in 1946 by Mary Lou Williams's Girl Stars, and featured Mary Osbourne on guitar. They were an all-female band, and contemporaries of people like Charlie Christian.
We loved that name, "Harmony Grits" – that it was a joke because we play in harmony, and grits are very southern. So we were like, "Well, that's gotta be the title of the album because it perfectly encapsulates what we're doing."
It's gritty. It's hard work, working this stuff out. You've got to have a lot of grit and determination to do it.
We're releasing it May 21.
DLTS: What are some records that are in heavy rotation for you this week?
SJ: It's ridiculous, but Jimmie Rivers & The Cherokees' "Brisbane Bop" is a permanent fixture in my collection.
My friend Melissa Carper just put out a new record that I adore, called "Daddy's Country Gold." The writing is stellar. The musicianship on that record is fantastic. I've been listening to Melissa's record a lot this week.
DLTS: When I'm listening to Melissa's record, I sometimes forget how lucky we are that she's someone we have access to in this town.
SJ: I play with her and Rebecca Patek every week. She plays bass with Devin Jake. They're such great musicians. It's really good to see that she's getting critical acclaim for it. So often I feel like records that are just kind of average get talked up a lot. But I'm pleased and happy that she's getting some good coverage, because it is just fantastic.
It's a long time coming. I know she's made a lot of records with various bands. But I think this solo project really highlights her fantastic voice, musicianship, and, most importantly, her songwriting. It's just killer.
I'm happy and proud to call Melissa Carper a friend. I sold merch for her at her record release show, and it was the greatest job to be able to listen to her singing and playing, and to collect money for a record that I definitely, whole-heartedly recommend.
---