When Austin's biggest music events were cancelled in March 2020, Dan Hardick said he didn't shrug it off. Instead, he and his honky tonk dance band Fingerpistol quickly scoured the Internet for ways to remain engaged with their audience and each other.
Hardick chatted with Dim Lights, Thick Smoke this week about the intense trial and error he put himself through over the past year, including a crash course in live video production, in an effort to preserve Fingerpistol's place in Austin's live country music scene.
---
Dim Lights, Thick Smoke: You and Fingerpistol seem to be very deliberate about how you're navigating this pandemic. You've tried a lot of different things with video and recording original songs. Is it all as thoughtful as it looks? Or has it been random and organic?
Dan Hardick: I feel like we all kind of woke up one morning and were, like, "Oh, shit. This thing is about to happen for real." It was some time around March 10, because we played a Sunday night gig out in Fredericksburg and I got the news on Friday that SXSW was shutting down. And I thought if SXSW is closing their conference, this is real. We're no longer just making jokes about it.
For what we did in the wake of that, I credit a few things.
One, I noticed in 2018 that Facebook's event image space could become a video, rather than just a flat image. I had been doing all these vintage country images. So I thought, well, why not make a quick little video? So I started doing these little animation things with the band. Goofy stuff, you know?
And then our singer Mandy Prater had been doing a lot of solo gigs and livestreaming them, and I had been wanting to do that with Fingerpistol. We thought, "Why would we not broadcast our shows? It makes no sense not to if it's easy."
The first one we ever did was out in San Angelo, and it was kind of crappy because the sound was weird and the angle was weird. But we started doing it at The Little Longhorn Saloon and, over the weeks, by September 2019, we got the sound and camera placement pretty decent.
By September or November of 2019, we had some livestreams that, according to Facebook, had 30,000 views. So by the time the pandemic rolled around, we thought it only made sense to keep doing this. I said, "Why don't we just move into my studio and we'll all livestream in there?"
That first week, you could get nine people together, so we had six people together in a room and we livestreamed that. I think we had three- or four-thousand views, which is pretty awesome. But then it was a slow tail down to a smaller audience.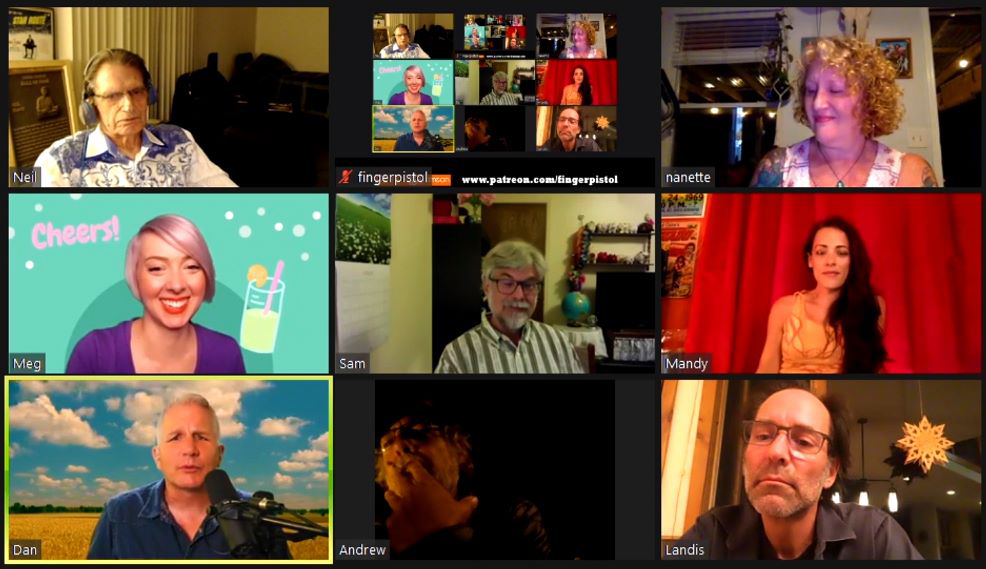 So then I thought, if we're going to do this, let me do an intro to the video and we'll do some segments. Like where our bass player Sam Wilson, who is a straight-up genius, explained science in "Arcane Factoids with Professor Sam." We had Landis Armstrong telling old Austin stories, our drummer Andrew Gerfers doing posts out from Dale, Texas, and our 82-year-old steel guitar player Neil Flanz doing "country music memories" and talking about people he played with.
I was going nuts trying to get all these videos put together every week with an intro and everything. I feel like I kept that up until almost May or June 2020. But then everybody got tired of doing their segments. By April, I started doing these composites.
People would ask, "Why doesn't everyone in the band play their part through Zoom?" And I'd have to tell them, "There's this thing with the Internet called latency." There were two or three streams where we tried to have everyone sing together and, of course, it was a complete clusterfuck.
But I will say this: I learned so much because I just embarrassed the living shit out of myself so many times.
Easily 50 percent of the streams we did had sound problems – everything. I finally got pretty good at Open Broadcast Software (OBS) and decided to go across the street from my house to do socially-distanced full-band livestreams. We did a six-camera shoot – two GoPros, two phones, all these different things running through a switcher. Our fan Nanette Marie was behind a desk switching shots. The sound was really difficult to mix.
Once again, it was super-educational. All this time, we're not even playing gigs. So I was thinking, "How do I keep the band engaged and feeling like they're moving ahead in the world?"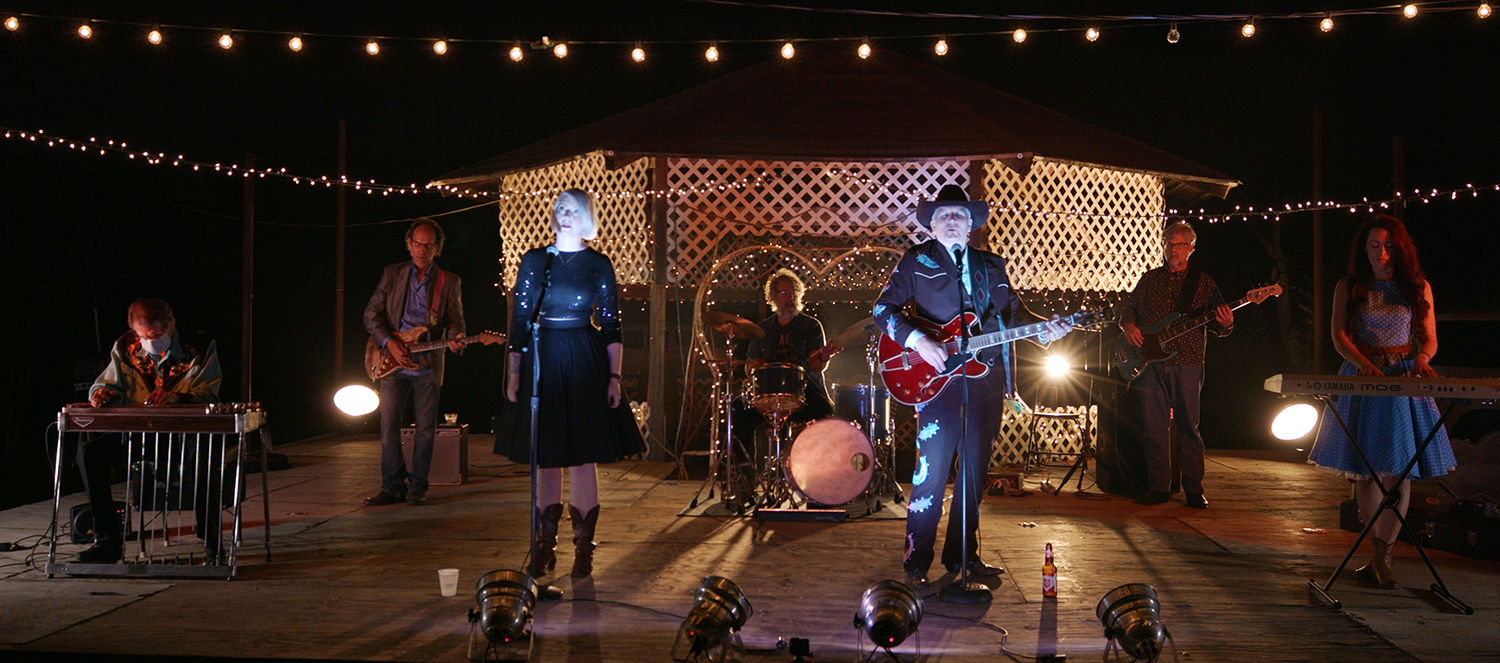 We did the backyard thing through October. But then it was getting dark and cold earlier. We went back to the Zoom thing and did a couple outdoor shows. But now I've kind of weaned myself off of that and stopped doing livestreams, for the most part.
But the other part of this is that Wild Bill Ogden told me, "You need to (livestream) on Twitch." I was so busy, so I told Mandy Prater, "You're perfect for Twitch. You play guitar, do all these songs, you look great." She got on there and started killing it pretty quick. I followed her lead and I'm still well in her dust because she is just crushing it on Twitch.
She's doing well enough on Twitch that it's going to be hard to get her to play live gigs with the band. The reason for that is that Twitch is designed to monetize the performer.
That's unlike Facebook, where you rely on tips. People were super-generous with their tips and, to this day, I'm completely touched – I'm almost emotional about how supportive people were through the whole of last year. I would never have dreamed we'd be able to make any money.
We didn't make a bunch of money. But I hope people understand how much their donations meant. They are forever angels to me because of that.
So now we're down to playing live gigs, again.
I feel like Fingerpistol has built up a decent following over the years. I'd be so overjoyed many years ago by even the worst crowd on a Tuesday night at The Little Longhorn Saloon. I'd be, like, "We are crushing it." And that minimum crowd size has kind of raised over the years.
We might go back in there now and play to Diana (bartender at The Little Longhorn Saloon), and she's probably well sick of us by now. It could be very difficult.
I've had to learn so much. My brain has not had to process this much information, or had to deal with this much frustration and utter failure…[laughs]…in a very long time. And it's kind of been cool, in a way.
The other thing about the livestream thing is that I've been playing in a honky tonk dance band since 2008. And my job in that band is to sing lead, sing harmony, and basically provide the canvas upon which Neil, our steel player, and Landis, our guitar player, do their leads. Consequently, my skills as a guitar player are totally about ca-chunk, ca-chunk, ca-chunk strumming.
So when we'd do these Zoom things, my skills as a solo performer – good God – were pretty weak. I was, like, "I used to be able to handle this kind of thing." But over the course of the past year, it's been good for me to work on my ability to handle the part where I'd normally tell Landis to take it. Or playing intro licks and stuff that I have not really bothered with because it's been covered.
Now if I ever want to livestream, I know everything to do to make that happen in pretty much any way I want to make it happen. If I want to have five cameras, I can do that. I have a feeling that, when I go back in the clubs, I'm just gonna throw a phone on a stick and that'll be it because I'm a little PTSD with all of the livestream production. Staring into a camera lens, period, is traumatic. But I do have the knowledge to do it now.
DLTS: You and Fingerpistol worked muscles over the past year that you never expected to have to use. But you were also very productive with your music – the stuff you have always worked hard on – releasing fresh recorded songs. How do you feel like the band enters the live music world different than it was the year before?
DH: [Laughs] Worse.
"Two Dollar Words" and all those songs that we recorded over the past year were partly to keep the band moving. Playing in the backyard occasionally isn't enough.
There's a vast difference between playing once every few weeks and playing three times a week. But give us a few weeks. We're going back to The Little Longhorn Saloon every Tuesday, starting May 11. I think we'll get that ensemble tightness that we had in March 2020.
Right now, it's still kind of Wild West for us. But I'm literally grinning from ear to ear behind my mask just seeing people, instead of a goddamn camera lens.
DLTS: Do you feel like, once you get going in May, that it's "game on" for the band? Or is there any hesitancy?
DH: Meg Bodi and I are doing acoustic shows starting May 1 at Buzz Mill. The band starts doing Tuesdays at The Little Longhorn Saloon starting May 11. We're back at The White Horse in June. So we're going to have to see how that goes, with how the pandemic is shaping up.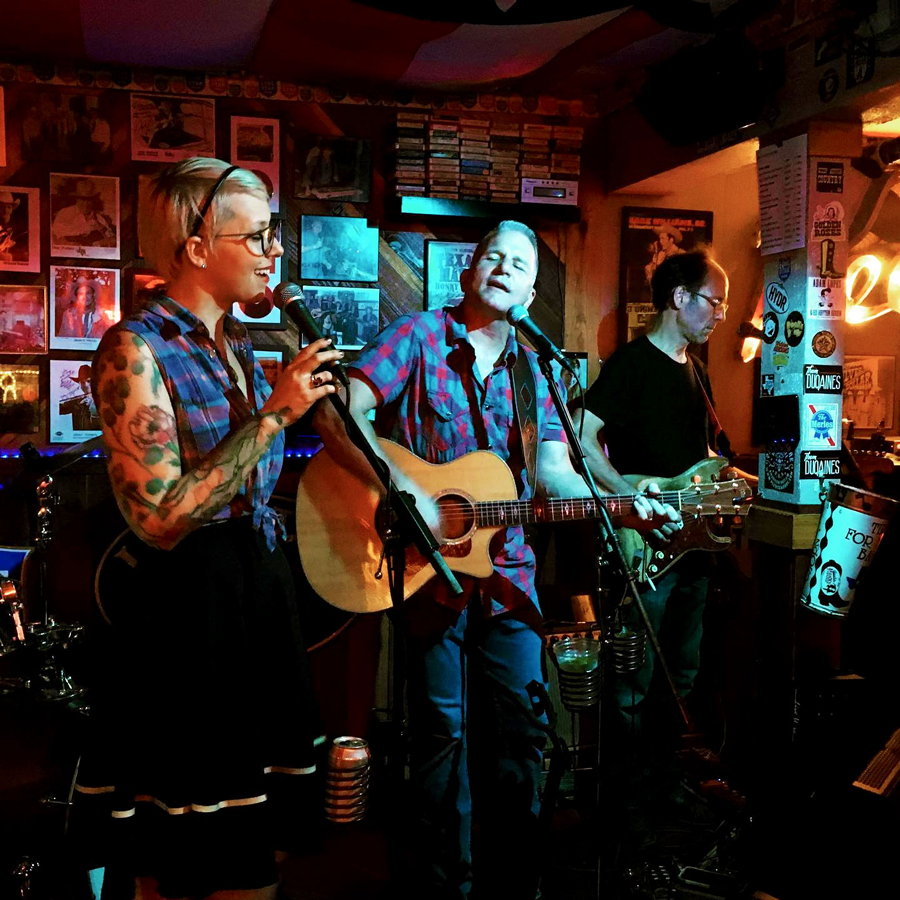 Most everything else is outdoors. And we still have members of the band that are very uncomfortable playing indoors. So I've been trying to get creative with where I book the band. We're definitely not at full steam. I just can't imagine how we will be.
I really don't know how it's gonna go. The whole band is vaccinated. I feel very good about that. I feel strongly that everyone should get vaccinated so we can all get back to doing something relatively normal again.
The other thing, looking ahead, is that a graduate costume design student at University of Texas made me a Nudie suit as her graduate project. I'm not gonna be playing in it in the summer because it'd be insanely hot and it'd ruin the suit. But I look forward to that in the fall.
We made a video for one of my songs, "Stuck at a Stoplight," and we'll release that. We have 10 songs that are studio recorded that I just need to mix and start releasing. But with everything I realized during the pandemic, one was that I need to get my studio game back together. I need to be more diligent because, once you get lost in the day-to-day of playing and promoting shows, you lose time. So I want to try and be very diligent about releasing those.
I don't know if I'm gonna make a CD because CDs are just something to put your coffee on these days. They're really more of a problem to solve than a solution. But I do want to keep releasing original stuff because, A, I like writing, and B, I like having it out there. I'm an old man and that's kinda all I got left. [Laughs]
DLTS: It's surprising how little of that there was in Austin's country music scene over the past year, generally: Putting yourself out there and trying some weird stuff. Did you find that others were asking you for direction or ideas?
DH: I'd tell anybody that if there's anything you want to ask me about OBS – because I feel like all that information I got was so hard-won and valuable. It's not that tough, truly. But it is, in a way, because it's like studio or live sound engineering where there's so many little tweaks that you have to know in order to make anything worth listening to.
I was always volunteering, "You wanna learn how to do this? I'm here." And nobody really wanted to do it.
But there are people doing some crazy shit. Kevin Russell is doing stuff that's pretty fun. Bob Appel and Weldon Henson – they're crushing it. They're such great solo performers.
I was so intent on bringing the whole band into the livestream situation that, I think in my enthusiasm to create this show, I learned two things. Number One was that I'm never going to compete with an Austin City Limits, you know? The best thing I can get out of a livestream is just not gonna have the production value. So why would I expect someone on the other end to stick with it for even a second? Or five minutes?
Number Two was that livestreaming in its best form is interactive and intimate. The reason that Weldon, Bob, Landis, and Mandy are so successful with it is the interaction and the intimacy that comes from being one-on-one with the person on the other end of the camera that is the element that works in a livestream situation.
I'm not sure that a band fulfills that, oddly. I feel like me sitting down, telling a story, singing a song, talking about how I stepped in dog shit – that is the realm of livestreaming. And I'm not sure that ensemble performance is. I've seen some great ensemble performances. But it doesn't have that sort of intimacy that you even get in a club.
That's one reason I've lost my enthusiasm for doing a full-band livestream because I don't think that's ultimately what people want.
DLTS: I get it. When you see a good livestream, it's much less like Austin City Limits and it's more like a talk radio show.
DH: Yeah, that was my "Eureka!" moment, and it happened in late summer of last year. I'd tell the band, "I would so much rather play a gig than do this livestream because it's so much harder to do the sound engineering – the whole thing." We're mixing seven people, six cameras, and switching interstitial commercials.
It's insanely ambitious. But all of that wasn't really garnering us any more views or fans or engagement than me just sitting there plunkety-plunk'n on the acoustic guitar with a camera phone.
I realized that this is what this is. Let's embrace what it is instead of trying to embrace what it's not.
DLTS: So what are you listening to this week?
DH: When I listen to a song, I'll often think, "Man, I want to learn that." So I've been listening to Charley Crockett; specifically the song "How I Got to Memphis." I've been listening to Fastball, "The Way," and I've been listening to a lot of Merle Haggard. Also, because a lot of people have asked, "Old Town Road" by Lil Nas X, which I can now do on acoustic, if need be. Not saying I'm going to. Just saying. Maybe.
---