The return of live country music to Austin this spring has been diminished only by its shortage of one of Texas' most coveted sounds: Fiddle playing. But that's changing this month, as one of its principal fiddlers and singers, Brandi Clarke, begins to fill her live music calendar again.
Clarke chatted with Dim Lights, Thick Smoke this week about her bittersweet year away from the stage, connecting with her late father, sheltering with her family in Belton, Texas, and learning "modern" country music.
---
Dim Lights, Thick Smoke: We know you, we love you, we miss you, and we saw that you've appeared on more stages of late. What changed for you in the last month?
Brandi Clarke: With everything re-opening in Texas, my gigs are starting to come back. Almost everything I do is dance hall or bar gigs. Those places have been mostly shut down until now. But when they re-opened, people started calling me and I've been able to get back out and play again.
DLTS: We know you from your work supporting a number of different artists on fiddle. But we may not know the full breadth of what you do musically. So how has the pandemic affected your music across the board?
BC: The only thing I do these days is perform live. I don't record much and I don't teach lessons anymore. So all there is is going out and playing live shows. And those have been cancelled for most of the year. So it's left me at home for that time.
DLTS: Anyone who's seen you perform probably suspects you've been studying this stuff for a long time. What's the story there?
BC: I grew up in Hubbard, Texas. And I went to college for music. I studied first at a commercial music program in Waco. Then I went to Belmont University in Nashville and my degree was for commercial composition because I wanted to be a songwriter.
After that, I came back here to Texas and played for two years in an Irish rock group out of Houston, Blaggards, and toured all over the United States. I liked doing that. It's the most unusual thing I've done.
After that, I got back to playing classic country pretty close to home. I'm stayed pretty traditional, with old Ray Price and Johnny Bush stuff.
DLTS: Is that what you had in mind or set out to do when you initially earned your degree?
BC: No. I think that changed over the years. I think I wanted to teach in college, like at the college level as a fiddle professor like my teacher was. Then, over the years, I realized my passion was really more performing and playing live. Not to be a front person, but the side man, backing people up.
DLTS: In many of the groups you perform with, you sing. And you often sing lead on at least a handful of tunes. I have to nudge you a bit and ask: Why don't you do more of that and lead a band?
BC: That's what my husband always asks me. "Why don't you start your own band?" I don't know. I don't really enjoy leading the band. I'm happy to be in a supporting role. I picture myself like Don Rich with Buck Owens, you know? He would just be the backup guy and make the guy out front sound better. That's how I view myself. Make them sound better. I don't want the responsibility of talking to everybody and remembering all their names and birthdays. And booking the gigs – there's so much responsibility to being that front-person. Everything they do behind the scenes. I just want to play music and see people being happy dancing to it.
DLTS: How have you hung on through the pandemic?
BC: Some days, it's been really great because I've been home with my girls. I love that. And I love the slower pace. It's been a really sweet time at home, with my girls still young. We may never have another opportunity like this to be so close and all together. So there are the days that are really good.
Other days, I really miss music. It's the icing on the cake that makes life so much sweeter and better. And it's not the same sitting here playing by myself. I can go lock myself in our music room and practice for an hour. But it's not the same as playing with a whole band and getting that joy with the other girls and guys on stage.
DLTS: Whatever hole the pandemic created for you in taking away live music, did you fill that with something else?
BC: I did. I lost my dad a year ago in October. He was a musician and I inherited all his instruments.
He was a mandolin player, so his mandolins are really unique. But one of the instruments was his Martin HD-28 guitar. It sounds amazing. It's better than I'll ever be worthy of. But nothing spectacular or rare. So I decided, "I'm gonna learn to play this."
My husband (Bryce Clarke) is a fantastic guitar player – one of the best around. My brother will joke, "Why would you even bother learning when he's so great?" But I figured I don't have to be the best. I just want to have fun. I'll practice a little every day and learn some rhythm guitar.
So I've been working on that, and that's been really fulfilling. I understand I'm not going to be an amazing guitar player like my husband or Bob Appel, who can back himself up and do a four-hour show. I can just sit around and play a couple songs now. And that fills me and makes my heart, you know, kind of soar. I'm in touch with my dad, playing his old instrument.
DLTS: That's really special. Do you and your husband ever perform together?
BC: We'll play together at home whenever we have a little spare time. We'll sit around and sing songs with the girls. Our girls love Kiss, so sometimes he gets the guitar out and plays some Kiss songs and I'll sing along.
But we don't get to play together very often. We got to do some songs for Easter at church. Every once in awhile, Bob Appel has had us both on the same gig. Or we'll be on a local gig here together. But we probably only get to play together once or twice a year.
DLTS: It's gotta be really hard on fiddle to be prepared to support as many bands as you do, especially if you've had very little stage time with a band. It's one thing to perform with somebody on the regular, where you've worked it out on stage. But I imagine being asked to sit in on fiddle is a special kind of difficult.
BC: It's probably along the same lines as most of the instruments in the band. There are standard parts. If I go out on a gig and we're going to play a lot of the same songs with a standard fiddle part, I'm gonna know all the Texas standards. I'm gonna know my kick, turnarounds, and ending for "Amarillo By Morning," "Whiskey River," or whatever they are that night. I'm gonna know my parts for those.
The keys will change from gig to gig. But for the most part, people are doing them the same way. So I have that memorized. But if they pull something I don't know, you have the patterns memorized from the style of music you're playing. So I probably couldn't do a jazz gig or something like that. I don't know the patterns or the parts. But I know and understand the patterns for country music and I can apply them to a song I don't already know.
DLTS: Is there a tune, or category of tunes, where you think, "Oh, yeah. This is the time for my fiddle to shine."
BC: All Ray Price – the "chomp, "chomp" intro – all Johnny Bush, a lot of George Strait. They have a standard fiddle part and I like to play them right off the record and do them as close as possible. "Heartaches By The Number," "Amarillo By Morning," "Crazy Arms" – all those have great fiddle parts.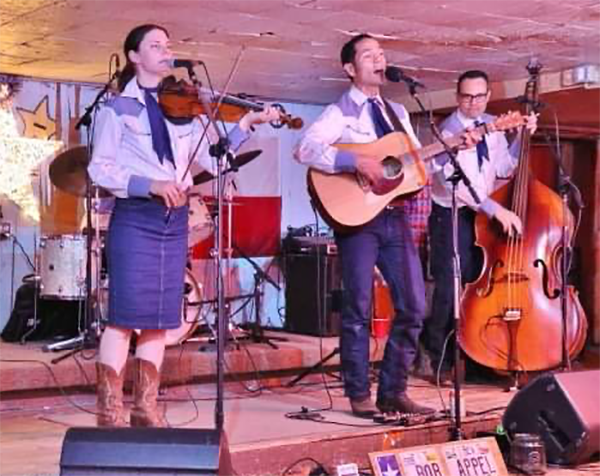 DLTS: Now that live music in Texas is starting to cook again, what are the gigs and projects you're most looking forward to in the coming weeks?
BC: I'm really looking forward to getting back to work with Bob Appel. That is my favorite gig – don't tell the other bands. He always has a really good lineup, he has great song choices, it's always really fun. He's so professional.
There's a local modern country band, Last Call, that called and asked me to send them "four old songs and four modern songs." I'm like, "I don't know any modern songs. You mean, like, Ronnie Milsap?" My cut-off is early-George Strait. We really don't do anything else from that era. We just accept George Strait because he's from Texas.
So I had to pick four modern songs to sing. I've got one from Little Big Town, Ashley McBride, and a couple others I'm trying to work on. It's pushing me outside the box. It's gonna be fun to try something new and different.
DLTS: What are some of the records that have been on heavy rotation for you in the past week?
BC: I'm kind of a creature of habit. When I drive to gigs, I listen to the same thing there and the same thing back every time. I always listen to Connie Smith and Patsy Cline on the drive there, so I can warm up my vocals and get inspired. And on the drive back, I always listen to Slaid Cleaves because it makes me remember being 23. Before I get home and everything gets hectic again, I can remember what it was like to be cool and under 30.
I'm always listening to Jake Hooker because he's just fantastic. He has the perfect band lineup of twin fiddles, steel guitar, upright bass – all that stuff.
Lately, I've been listening to Aaron Watson, just so I know what my husband is playing. When we practice, we go in the music room and put on headphones. We never hear what the other is working on or what they're playing. We can't go to each others' gigs because we're playing or with the girls. So I listen to that, just trying to feel like I'm kind of in on what he's doing. I'll be prepared if I ever get to go to a show, I can sing along and look like I'm into it.
Another thing I've been really excited about lately: I was talking to a friend the other day, and her mother-in-law said, "Oh, my brother was a country musician. But he died right after he signed a record deal." So she told me about her brother, Gary Huska. He died when he was 27. And I've only been able to find two songs that he did. They're on YouTube and I've had those on repeat because they're so good. He's really great. It's tragic that he didn't get to go out there and do more of it because his voice is beautiful.
---