Ben Sparks is in the middle of a decade-long mission to broaden the definition of Western swing music in Central Texas. His band, Rollfast Ramblers, released an eight-song EP last year, called "Non-Stop Action!!! Thrills!!!" on the heels of opening the bandleader's Rollfast Ranchwear and Bike Repair shop in Lockhart, Texas.
Sparks chatted with Dim Lights, Thick Smoke this week to talk about how Rollfast Ramblers came together, skirting Western swing taboos, and charting a new path to financial success as a musician.
---
Dim Lights, Thick Smoke: What are you most excited about for the week ahead?
Ben Sparks: Getting to play out, again. We released an EP a couple months ago, called "Non-Stop Action!!! Thrills!!!" We didn't do any promotion, really. But I think it's prepared us to play at some bigger places.
DLTS: How did that EP come together?
BS: We were recording our rehearsals. Things had shut down and we really weren't playing gigs. So I started listening to all these rehearsals and thought, "Wow, there's really some good material on here." So me and Scott Cater, our banjo and guitar player, started working on mixing those recordings. And Scott was interested in using our material to start a record label.
So Scott started "Shed Stomp Records," which is label he's going to produce some roots music on. He does all the publishing for us. So I just sit back and let him do everything.
We're old punk rockers. We really believe in the DIY thing.
DLTS: There's six musicians in the Rollfast Ramblers. And y'all wear many hats. So what's everyone's role?
BS: My role has always been the motivator and leader.
We've had several lineups. I started Rollfast Ramblers around 2012. I had been playing in honky tonk bands, but noticed there weren't a lot of people playing Western swing that were younger. I thought, "This is Texas, for crying out loud," you know?
Years ago, I had a very popular lineup that played a regular night at The White Horse, just after it had opened up. The band kind of came together on stage there.
That incarnation imploded after two years. The musicians didn't really want to do it. We started doing national tours and those folks just didn't want to be professional musicians, unfortunately.
Then there were two years where I was looking for people, and we had a couple of lineups. I got a practice space in South Austin and just holed up and put together another band. But we didn't play out that much. We had a floating lineup for a couple years there.
I was really looking for people that were very passionate about the music and knew the history of the music. Because I feel like that's something that's really missing from the country scene. It's too bad because country is really supposed to be about people passing the traditions down.
I'm not saying people need to play country music exactly like people in the past. But they should know the history of the music.
Then I ended up meeting Scott around 2015. He was really the person I was looking for. I was really trying to meet somebody who was interested in playing rhythm guitar because, in Western swing music, rhythm guitar is really different than in country.
Scott was into Dixieland and wanting to play banjo. I had never played Western swing music with a banjo player. And he showed up with a six-string banjo and he's throwing all this jazz stuff at me, and I'm like, "What's this? This is different." He really opened my eyes to the fact that all of the Western swing that was playing pre-1960 had banjo in it. There's no banjo in Western swing anymore. It really changes the sound of the music because the banjo is holding down the two-four rhythm.
Then we ended up meeting Royce Phillips and Alexa Dee Crooks.
Royce is a jazz saxophonist. He went to college for music and is probably the most knowledgable musician I've ever met.
Alexa is our fiddle player and lead singer. We play songs that her family's band wrote in the '60s. They were called Travis and The Westerners. They played all over Texas back in the day. Alexa also comes from an old-time fiddle background in which she plays traditional tunes handed down from her "Cedar Chopper" heritage. She was really important in us developing a real "old" sound.
Karrie Shehan is our drummer, and then we have Kelvin Stewart on steel guitar. The lineup now is pretty solid.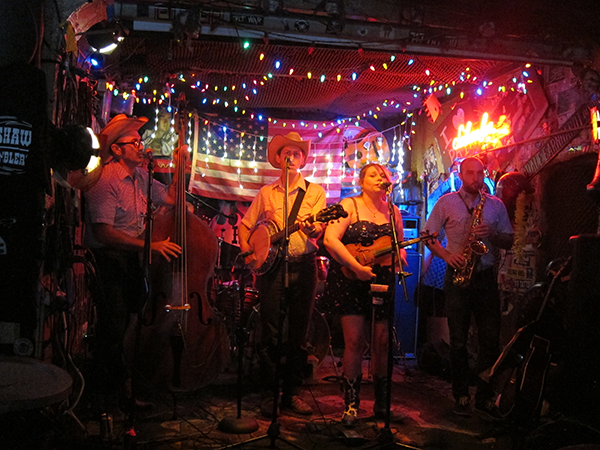 That's why I'm looking forward to playing shows now. We're getting tighter and tighter. We're doing more original arrangements of the tunes; doing our own thing with Western swing.
We feel like the Western swing world is way too focused on Bob Wills. We try to study the bands that go off into a different area. A lot of people don't realize that Western swing is a music genre. They think Western swing is Bob Wills. But it's a giant genre of music that's very, very regional. A lot of people all over the country were playing Western swing.
I kind of feel like Western swing went into the hole the way bluegrass went at one time, where people have all these rules. 'If you don't do this, you can't be called Western swing.' We wanted to do something that was a little different from what most of the bands that called themselves Western swing were doing.
DLTS: You can't scratch around your band without running into Rollfast Ranchwear and Bike Repair. What's the connection there?
BS: That's my shop in Lockhart, Texas. The band is tied to the shop. All the branding is the same.
When the original unit broke up in 2014, I was going to rename it. But I realized I had created all this branding for the band. So I thought, "Why even change any of this?" I make a T-Shirt with a monkey on it with pistols. It's insane how people who have never even heard the band buy that T-shirt. That shirt alone made me realize I could open up a shop that sells clothes when we moved to Lockhart.
When we did that, we realized the town needs a bicycle shop. And the name "rollfast" is a reference to bicycle people. The band started when I was a pedicabber in Austin. And a lot of the members of the band were pedicabbers. So I wanted the name to say "bicycle cowboy."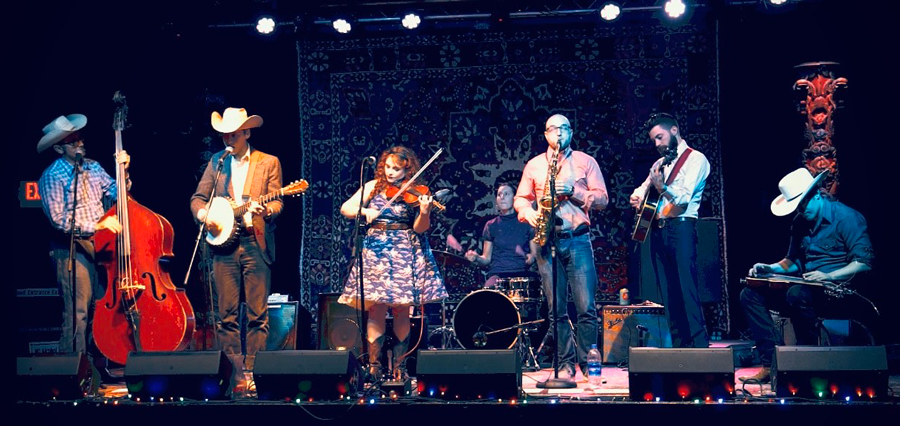 DLTS: It sounds like it's safe to say that, when you're not focused on making music, a lot of your energy is wrapped up in bike repair and the shop.
BS: Yeah. The goal with the brand is to be producing American-made clothing right here in Lockhart. The band part of it is just advertisement for that. Let's face it: Musicians have to find another way to make money. Musicians sitting around waiting for royalty checks are…not going to get them, you know?
So I've just gone back to a way-old idea of how musicians used to make money, which is the medicine show. I basically created this whole immersive experience at the store to make money with the whole idea of the band. Things are going really well here. And once we have more capital and things are open again, I'd really like to have a touring unit that didn't just sell band T-shirts, but sold a lot of things.
Nikki Lane is doing that at Stagecoach. I'm turning 50 this year. And as people my age start retiring, I feel like the whole RV scene is going to really change. It's going to be more like El Cosmico. The idea of setting up a stage and a little store at these places, and coming out and entertaining people, and being able to pay the musicians well – I think that could be a lucrative business.
DLTS: What records have been in heavy rotation for you over the past week?
BS: I've been listening to the old Porter Wagoner and Dolly Parton stuff that nobody seems to care much about. It's amazing stuff. It's like six records that I don't think get enough attention.
I think Dolly's stuff gets attention. But her stuff with Porter Wagoner is pretty incredible material. They even did duet records after they broke up.
I love Johnny Bond. I love anybody who's not a good singer but pulls it off, 'cause that's me. Johnny Bond is a terrible singer, but a great harmony guy. He sang with Jimmy Wakely for a long time and then went on his own and had a bunch of hits in the '60s on some novelty tunes, like "Hot Rod Lincoln."
Some of the early '70s Willie Nelson stuff has been on rotation, like "Shotgun Willie." The record that's all Texas themed is crazy. Willie Nelson with Jimmy Day on steel, before the harmonica playing.
There's a vocal harmony group called "The Dinning Sisters" from the '50s I was listening to last week.
Patsy Cline's "Live at the Cimarron Ballroom" is gold. It's her live with a Western swing band. She wanted to do Western music way more. But at that time in Nashville, things were changing toward "The Nashville Sound." She wanted to do "Crazy" as a Western swing song. And we do it that way.
But check out the Porter Wagoner stuff with Dolly. It's all super Nashville. Owen Bradley. It's insane stuff.
---